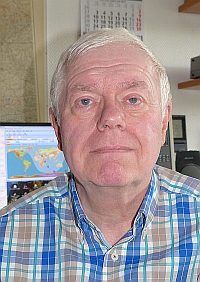 Mein Name ist Hans-Gerd Kostelnik, Jahrgang 1950, lebe und wohne ich in Oberhausen, einer Stadt mit über 200.000 Einwohnern in Nordrhein-Westfalen.
Amateurfunk betreibe ich seit 1971, zunächst unter dem Rufzeichen DC2EB, danach ab 1984 als DK4JM
---
Nach vielen Jahren aktiver UKW-Tätigkeit, habe ich mich Mitte der 80er-Jahre auch dem Amateurfunk auf Kurzwelle verschrieben.
Neben der Betriebsart Fonie (Sprechfunk) und CW (Morsetelegrafie) sind die digitalen Betriebsarten ein weiteres Betätigungsfeld.
Im DARC e.V., Ortsverband Oberhausen, bin ich verantwortlich für die Rufzeichen DL0AND (Not- und Katastrophenfunk) und DL0RO (Clubstation OV Oberhausen).
My name is Hans-Gerd Kostelnik, born in 1950, I live in Oberhausen, a city with over 200,000 inhabitants in North Rhine-Westphalia.
HAM-Radio I operate since 1971, initially under the callsign DC2EB. From 1984 onwards as DK4JM.
After many years of active VHF activity, I have also devoted to the HAM-Radio on shortwave. In addition to the Fone (voice radio) and CW (Morse Telegraphy) operating modes, the digital operating modes are another operating field.
I am responsible for the callsign DL0AND (Emergency-Radio) and DL0RO (Clubstation OV Oberhausen).